Jesus told his followers to continue his ministry: "Therefore, go and make disciples of all the nations…Teach these new disciples to obey all the commands I have given you." – Matthew 28:19-20 NLT. Acts 14:21 NLT states:  "After preaching the Good News …and making many disciples". A disciple is a pupil or follower.  Unless new converts to Jesus are trained by the Bible and other believers to follow Jesus' lifestyle example, they could fall away from the faith, not understanding what happened to them. The limited space on tract literature cannot do justice to the need for followup.  We offer two free e-book downloads.:
1) Free Discipleship / Evangelism  Course – 48 lessons, 324 pages, PDF e-book
Clickable Link to website of Andrew Wommack Ministries International for Free Downloads of this 324 page PDF e-book in the following languages: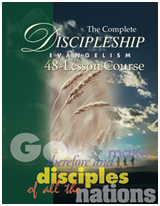 Afrikaans, Arabic, Burmese, Chinese (Simplified), Chinese (Traditional), Dutch, English, French, French (Congolese), German,
Hindi, Hungarian, Indonesian, Italian, Japanese, Karamajong, Kinyarwanda, Korean, Leb-Thur, Luganda, Nepali, Norwegian,
Pokot, Polish, Portuguese (Brazilian), Romanian, Russian, Slovenian, Spanish, Swahili, Telugu
2) Booklet What it Means to be Born Again – Understanding God's Plan of Salvation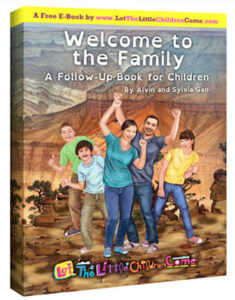 3) FREE New Believer Follow-up Book for Children
75 page Follow-up illustrated full color E-book for Children who ask Jesus into their hearts:
E-Book free download Welcome to the Family. Click on the link below
Welcome to the Family — A Follow-up Book for Children
You can also print the PDF document after you download it to your computer from the window the above link opens in. The authors say it can be printed on letter size paper. It cannot be printed to be sold for a profit.