Two research studies revealed:
According To Dr. Bryant Myers (Fuller Theological Seminary),
85% Of People Who Accept Jesus Christ As Their Savior,
Do So Between The Ages of 4 And 14!
BARNA Research Organization Also Found That People Are
More Likely To Accept Christ As Their Savior When They Are Young!
Don't forget that Children who ask Jesus into their hearts need to become His disciples. See the Free download color illustrated book at the end of the tract listings in this column.
Spanish
Download
At an early age a child learns that he or she is not all good, and the bad motivations come from within us (our hearts). We must give our dirty hearts to Jesus. He then takes the evil (Satan) out,washes us clean by the sacrifice of His life's blood, and puts His Holy Spirit in our hearts, which makes us clean in God's sight and ready for Heaven as our eternal destination. Also, having God on the inside gives us the power to do right and live like Jesus our perfect example.
One to a letter size sheet, folded in thirds.
Download
Easy language for a child to understand. Full color. Prints on a letter size sheet, both sides. The fold is in thirds, but a "Z" fold. for more tracts / writings by Ester Steyn, click on this link.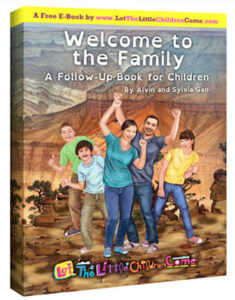 FREE New Believer Follow-up Book for Children
75 page Follow-up illustrated full color E-book for Children who ask Jesus into their hearts:
E-Book free download Welcome to the Family. Click on the link below
Welcome to the Family — A Follow-up Book for Children
You can also print the PDF document after you download it to your computer from the window the above link opens in. The authors say it can be printed on letter size paper. It cannot be printed to be sold for a profit.